Oral-History
:
Martin Bloch
From ETHW
About Martin Bloch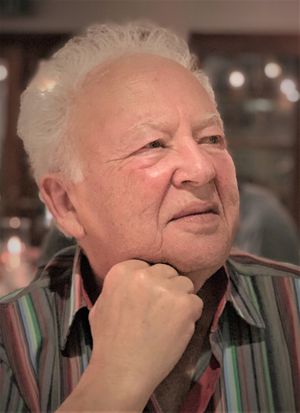 Martin Bloch was born in Ivje, Poland in 1935. In 1941, he escaped the Ivje ghetto with his mother and brother, and joined the Bielski Artrad Jewish Partisan group. After surviving the Holocaust, he lived in the Bergen-Belsen displaced persons camp until 1951, when his family left to come the United States. Arriving in New York in 1952, Bloch attended the City College of New York where he majored in electrical engineering and physics and was an intern at the Weizmann Institute of Science. After graduation, Bloch accepted a position at Bulova Watch Company where he designed timing on fuses, oscillators and crystal filters for guidance systems. Bloch left Bulova to found Frequency Electronics, Inc. in 1962 and as of 2020 is the Executive Chairman and Chief Scientist of Frequency Electronics, Inc. (FEI). Bloch is the recipient of the 1992 Sawyer Award of the IEEE UFFC Society.
About the Interview
MARTIN BLOCH: An interview conducted by John Vig for the IEEE Ultrasonics, Ferroelectrics, and Frequency Control Society and for the IEEE History Center on Saturday, 22 September 2018 in Martin Bloch's conference room at Frequency Electronics, Inc., 55 Charles Lindbergh Blvd, Uniondale, NY.
Interview #847 For the IEEE History Center, The Institute of Electrical and Electronics Engineers, Inc.
Copyright Statement
This manuscript is being made available for research purposes only. All literary rights in the manuscript, including the right to publish, are reserved to the IEEE History Center. No part of the manuscript may be quoted for publication without the written permission of the Director of IEEE History Center.
Request for permission to quote for publication should be addressed to the IEEE History Center Oral History Program, IEEE History Center, 445 Hoes Lane, Piscataway, NJ 08854 USA or ieee-history@ieee.org. It should include identification of the specific passages to be quoted, anticipated use of the passages, and identification of the user.
It is recommended that this oral history be cited as follows:
Martin Bloch, an oral history conducted in 2020 by John Vig, IEEE History Center, Piscataway, NJ, USA.
Interview
Interviewer: John Vig
Interviewee: Martin Bloch
Date: 22 September 2018
Location: Uniondale, NY
Childhood, early education, and survival
Vig:
Please tell us where you were born.
Bloch:
I was born in Poland, 1935, in a small town called Ivje
Vig:
You once told me that every Bloch in the world is related to every other Bloch.
Bloch:
My family roots are from Alsace-Lorraine. In the year 1700, they migrated to Lithuania, because at that time, there was less antisemitism and religious persecution. The name Bloch is derived from the German word blacher, which means tinsmith. That was one of the few occupations the Jews were allowed during the time.
Vig:
What were your parents' occupations?
Bloch:
My father was a director of a gymnasium (which was a high school plus about two years of college) and my mother was a businesswoman.
Vig:
And your older brother?
Bloch:
My brother, who was twelve years older than me, went to gymnasium in Vilnius, which was fifty miles north of our town.
Vig:
What language did you speak at home?
Bloch:
Primarily Yiddish, Hebrew, and a little bit of Polish and Russian.
Vig:
How many languages do you speak?
Bloch:
Now primarily English, but I can get by in Hebrew, German, Yiddish, and Russian.
Vig:
Where did you go to elementary school?
Bloch:
I started formal education in June of 1945, after we arrived at the displaced person camp at Bergen-Belsen.
Vig:
How old were you when you came to Bergen-Belsen?
Bloch:
I was nine and a half.
Vig:
What happened to your father?
Bloch:
In June 1941, the Germans conquered Lithuania, Poland, and Belarus, which is where we were living. The first thing on their agenda was to eliminate the Jewish intelligentsia (educated people), so they rounded up all of the teachers, lawyers, and doctors, including my father, took them on a "work routine" one mile outside of the ghetto, had them dig their own graves, and then killed them.
My mother was convinced the remaining 3,400 Jews in the Ivje Ghetto would have the same fate, although many others did not believe that this was possible. One cold winter night in early December, she took my brother and me and escaped from the barbed wire ghetto, to a Christian farmer she knew. That was a very fortunate decision, as all of the remaining Jews in Ivje were killed in a mass grave next to where my father is buried, in mid-December of 1941. There were less than ten survivors from Ivje.
Vig:
And, then what happened?
Bloch:
My mother, brother and I joined a partisan group in early 1942, when I was six years old.
Vig:
By partisan group, you mean fighters engaged in harassing and sabotaging an occupying army.
Bloch:
Correct.
Vig:
What do you recall about the partisans?
Bloch:
The partisan movement was in the Nalibotsky Puscha, approximately one hundred miles east of where we were hiding after escaping from the Ivje Ghetto. My mother found out from the farmer that there was a well-established Jewish partisan group, which accepted all the Jews who escaped from the Ghettos. The Jewish partisan group called the Bielski Artrad consisted of about 1,200 young Jewish men and women, and four children. Their mission was to rescue Jews from the ghettos of Lithuania, kill Nazis, blow up German supply trains to the Russian front, and most importantly, stay alive. By 1943, the partisan movement in Lithuania/Belarus was approximately a quarter million strong.
The adults were busy with their missions; however, the young children were cared for with love and attention. There was no time for traditional schooling but many of the partisans were eager to teach me survival skills. I learned, for example, that moss only grows on the North side of trees, which helped me orient myself. Some of the Jewish partisans were farmers and had great knowledge of the forest. During spring, summer and fall I learned how to collect berries, certain leaves that grew next to the swamp (wild spinach), and most importantly, mushrooms which were good to eat. Over the next couple of years, I became quite an expert and a very successful provider of mushrooms. We also learned a lot about weapons, but the adults would not let us use them.
My other recollections were that all the adults were busy 24/7 in going out on missions, manufacturing or repairing weapons, providing medical care to the wounded partisans (Jewish and non-Jewish) since the Bielski Artrad had a few young doctors. At the end of 1944, the surviving Jews in the Bielski Artrad, which included me, my mother and brother, went in different directions. Many joined the Russian army to continue to fight against the Germans; we (my mother, brother and I) went back to Ivje to see if any of our relatives survived. Unfortunately, there was only one other Jewish person that survived the war, and the local population was not very friendly.
Vig:
Why did you go to Bergen-Belsen?
Bloch:
My mother decided that we should go west, since she knew that the only relative of the Bloch/Zlotnick Family who was still alive – was her brother in South Africa. We ended up in Berlin in the middle of May 1945 in the British sector and they arranged our transportation to the Displaced Person Camp in Bergen-Belsen in the British zone of West Germany.
Vig:
How long were you in Bergen-Belsen?
Bloch:
We were in Bergen-Belsen from 1945-1951, five years.
Vig:
Do you remember what hobbies you had before you came to Bergen-Belsen?
Bloch:
From the age of five until nine and a half, I was in survival mode. We hid at the home of a righteous Christian friend my mom had for the first six months, and then joined the Jewish Partisan group called the Bielski Artrad.
During those three and a half years, we were continuously on the move to escape from the Germans, and a lot of my hobbies developed out of necessity. Depending on the season of the year, I spent a lot of time collecting various berries, mushrooms, and sorrel, in order to supplement our very meager diet. There was no time or place for idle activities. One of the main benefits of that period was that I have become an expert on mushrooms, and I can tell which ones are safe to eat, and which ones are very tasty.
Vig:
Do you remember anything in particular about your elementary education?
Bloch:
The Bergen-Belsen DP (displaced persons camp) was in the British zone, and after the war, it was the home for 20,000 to 30,000 displaced Jewish Persons. The British assisted in setting up an education system for the few surviving Jewish children (about 150 including myself) that were between the ages of six and fourteen that had no prior education during wartime. Their system of education allowed us to take any subject at our ability level. For example, nine o'clock was English level one through ten; at ten o'clock, it was mathematics one through ten; etc. You could take English level one, mathematics seven, and so on, depending on your ability. The teachers were Holocaust survivors, very competent, and interested in doing the best job possible for the very few Jewish children that survived.
Vig:
Any particular memories from the period when you were in elementary school?
Bloch:
When I arrived at Bergen-Belsen in June of 1945, I had come straight from the Partisan group with whom I survived the war. During my time with the Partisans, I lived a very independent life, so it was difficult to exist in a disciplined school environment. However, even at that age, I enjoyed science and mathematics best.
From 1945 until 1951, we had to stay at Bergen-Belsen, because no country wanted to accept the Holocaust survivors. Under British management, as well as lots of support from the American Joint Distribution Committee (a Jewish organization set up after the war to help the survivors), conditions were good. We had plenty of food and nice living quarters compared to our time during the war. There were plenty of activities for us to engage in, such as all types of sports, theater, movies, etc. The British also organized summer camps for the children. During this time, learning and catching up to the lost years during the war was a priority.
Coming to America, college education, and first job
Vig:
When did you leave Bergen-Belsen?
Bloch:
We left Bergen-Belsen in 1951 to come to America. The Bergen-Belsen displaced person camp was over 20,000 Jews that survived the war, and among them, very few children, since the Nazis would kill the children and the elderly first. Nobody wanted the Holocaust survivors since they thought we would be burdens on society. The British, with the help of American-Jewish charity organizations, provided plenty of food and clothing and the survivors started a new life. The children especially got a lot of attention and many teachers who were among the survivors established a school to bring us up to speed in education, including sport and summer activities. Since it became evident that we were going to be in this displaced persons camp for a long time, it became the mission of everybody to go from the Holocaust to rebirth.
There was a newspaper, theater, hospital schools, and sport teams, everything that is needed in the self-governed community. The local Germans had no love for us, therefore it was dangerous to leave the displaced persons camp except in large groups. The mission of this new community was to find the fastest way to leave Germany, but it took a long time for that to happen.
Our initial intention was to go to Israel, but my brother fell in love and got married to a girl whose family left for America after their wedding in 1950, and later that year we followed my brother to America. I would like to add that when I arrived in America, my English was very poor, but I was quite advanced in the subjects of science and math compared with American students of my age group.
Vig:
So, you came to the U.S. in 1952. Where did you settle?
Bloch:
Yes, we came in 1952 by military transport ship from Bremen Hofen in Germany to New York. The HIAS organization got us a temporary living space, to my recollection it was the gymnasium in Cooper Union college. My brother moved in with his wife, my mother went to school to learn a new profession (from a businesswoman to seamstress), and I traveled by subway to explore New York City. In May of 1952, we found a small apartment in the Bronx, and while my mom was working, I went to Roosevelt High School. My objective was to improve my English and to take all the Regents exams so I could get into college to pursue the career of an electrical engineer. I was accepted to CCNY, the City College of New York.
Vig:
What made you choose CCNY?
Bloch:
Two very practical reasons: 1) it was free education; 2) it was considered in 1951 to be one of the top colleges in the USA.
Vig:
Did you apply to any other school?
Bloch:
No.
Vig:
What was your major?
Bloch:
I selected electrical engineering and physics because those were my greatest interests. As I started CCNY, I simultaneously applied and was accepted to be an intern at the Weizmann Institute of Science. That position gave me a great opportunity to earn some money--which I needed for food, transportation--and most importantly, to learn a lot from the senior scientists that were continuously visiting New York from the Weizmann Institute in Israel. As a matter of fact, my first interest in crystallography begins from doing a research paper on the behavior of quartz under various conditions. I did many research papers for the scientists and spent a lot of my time in the 42nd Street Library (that was before Google). While going to college, I also had a summer job at the Bulova Watch Company, which had a program from the US Army to develop a more stable hermetically sealed quartz crystal.
Vig:
Did you have any other summer jobs?
Bloch:
I had to work after school every summer since I came to America in order to make money to progress my life. In addition to the job at Bulova in 1955, I had many jobs from working at a candy store, to being a busboy in the Catskills, to clerking a stockroom, until I took a permanent job at Bulova in 1956.
Vig:
Did you have enough to eat?
Bloch:
During the war, we were on the continuous starvation diet. In 1944, when the war ended for me, I was 65 percent of my normal weight. During the DP Camp and in America, I was not hungry but I had to watch very carefully how I spent my money on food, travel, books, and lab fees.
Vig:
I asked you the question about the food because every time I came to visit you at Frequency Electronics we always have a feast for breakfast, lunch and dinner.
Bloch:
It is true, because I was very hungry during the war, but I also followed my mother's instruction: to feed your guests first before you give them a hard time.
Vig:
You treat your guests very well and I speak from experience.
Bloch:
It is my pleasure and I personally enjoy good food as well.
Vig:
Back to CCNY. Do you recall any influential professors?
Bloch:
Cecile Froehlich, the chair of the electrical engineering department. She kept me in school despite of my very poor English and guided me in my curriculum. I also recall professor Mark Zemansky, who encouraged me to pursue the combination of electrical engineering and physics.
Vig:
Did you engage in any extracurricular activities at CCNY?
Bloch:
I had very little free time, but I did participate in the rifle team: I was a very good sharpshooter. I also helped organize the very first CCNY soccer team.
Vig:
Do you recall any students who became famous?
Bloch:
The one who comes to mind is Colin Powel. He attended some of my engineering classes, although his interest was always ROTC, which of course led him to a military and political career.
Vig:
Did you go to graduate school?
Bloch:
I took graduate courses, but I started the family at a very young age, and my necessity to work and make a living made it impossible for me to pursue formal higher education. I must add that my internship at Weizmann Institute gave me a great deal of knowledge and helped me to pursue my career in precision time and time interval.
Vig:
So, the Weizmann Institute was concurrent with you being a student at CCNY?
Bloch:
Yes, I went to CCNY from 7:30 am to 1:30 pm and then worked at the Weizmann Institute from 2:00 to 7:30 pm. My responsibility at the Weizmann Institute was to do research for the science program that they had in New York City in collaboration with Princeton University and especially Albert Einstein, who was a senior advisor to the Weizmann Institute. Before Google, information that the scientists were interested in had to be obtained from books and periodicals in the library. I spent many days in the 42nd Street Library on 5th Avenue to research various topics that the scientists were interested in. One of the studies was on crystalline quartz, which I found very fascinating.
Vig:
What did you do after graduation?
Bloch:
I applied for a job to Bell Laboratories, and they decided that I should pursue theoretical work in physics. My own objectives were to build devices, and I therefore accepted a job at the Bulova Watch Company.
My first two years were to design and test timing on fuses for various types of munitions and to be used in the early missiles. I also participated in the development of the first electronic watch, the Accutron, which utilized a tuning fork, and I did the development for the electronics.
Bulova, at that time, got a major program from the U.S. Army, to develop the manufacturing process for quartz crystals for the military communication mission. I then got the opportunity to join the electronics division and work on quartz crystal devices for various military applications, especially oscillators for use in radios and missiles. From 1958-1961, my group developed many quartz oscillators for use in radar, missiles, and airplanes. Compared to today's accuracy, I now consider it very primitive, because a great oscillator was considered with the stability of 1 part in 10 billion. In the laboratory, my group was able to demonstrate the possibility of much higher accuracy, based on the pioneering work of Art Warner at Bell Labs. That stimulated my desire to produce precision timing and take it from the laboratory to the harsh setting of military application.
Vig:
Do you recall any other programs you worked on at Bulova?
Bloch:
We started to design oscillators and crystal filters for guidance systems to be used in the early U.S missiles. I also worked on timing for the U.S. Navy. The most exciting program to me was to develop the quartz clock for the Polaris atomic submarine. That achieved a stability of 5x10-10 under ideal conditions. I realized that quartz crystals can achieve much higher accuracies and are ruggedized to operate in harsh environments and application in missiles, airplanes, ships, and satellites.
The startup of Frequency Electronics, Inc. (FEI)
Vig:
Did that lead to the formation of Frequency Electronics?
Bloch:
Yes, I made a proposal to Bulova's management and presented it to, at that time, Chairman of the Board, General Omar Bradley [the first U.S. Chairman of the Joint Chiefs of Staff]. Although I was in high standing in Bulova as the youngest Chief Engineer, the proposal was rejected as not suitable for Bulova's business plan, which was primarily interested in products of mass production. I was very disappointed, and carried my proposal in my briefcase until I met Mr. Al Michaelsen and Robert Shepherd at a bridge game, and complained to them bitterly about my plans to bring precision time into the harsh environment being rejected by Bulova's management. Mr. Michaelsen asked me for a copy, and came a month later and asked me how much money it would take to start a new company for this product line. I worked up a budget of about 1.4 million dollars, which seemed reasonable to Mr. Michaelsen. Unfortunately, in September of 1961, the market crashed and all he was able to raise was $143,000. In spite of the very little money, I decided to start Frequency Electronics, in January 1962, against the advice of my family, my colleagues at Bulova, and many of my friends.
Vig:
What were your first jobs?
Bloch:
Within a week, we were asked to provide synchronization for a movie camera; however, the most significant opportunity we had was the interest of the United States Navy in a proposal I had made to provide timing for ships and submarines to a stability of better than 1 part per 10 billion, with a road map to eventually achieve a stability of 1 part per trillion. The development of the URQ10 oven controlled crystal oscillator, and then the URQ23, were the major technical achievements, which enabled Frequency to develop the subsequent product lines.
Space clocks; the best of times and the worst of times
Vig:
Who was your main point of contact in the Navy?
Bloch:
Our main contact in the navy was Roger Easton, who was at that time responsible for the development of precision time for the Navy. He was also very interested in navigation, and did the pioneering work for what is now known as the GPS system. Frequency Electronics built the quartz clocks for demonstrating the feasibility of the quartz oscillators that were launched on Timation I and II and demonstrated stabilities of 1 part per trillion. This was Frequency's beginning to develop clocks for space exploration, DOD satellites and then for commercial satellites as well. Frequency Electronics supplied the quartz and rubidium atomic clocks for most military, NASA, and commercial telecommunication satellites.
The typical programs for NASA were Pioneer Venus, with a clock that had to operate at 125°C, and Voyager I and II, which had to have long life and high immunity to radiation since it would see 100 krads when it flew by Jupiter. The quartz clocks on Voyager I and II exhibited very long lives--Voyager I was in operation for thirty-three years while Voyager II is still working now (2018) after over forty-three years. Over the next fifty-eight years, Frequency supplied double and triple redundant clocks for over 1,200 satellites, achieving short-term stability of 7pp10pp-14 and aging rates in the low parts in 10-13. We have also supplied Rubidium clocks, which have been operating in space since 1995.
Vig:
Do you make clocks for other harsh environments?
Bloch:
Yes, we adapted the clock developed for Pioneer Venus to operate at temperatures of 140°C+ for use in oil exploration. The system requires stability in 10pp-10 and needs to withstand very high levels of shock and vibration.
Vig:
During the fifty-eight years of Frequency, what other accomplishments are you most proud of?
Bloch:
My mission was to take quartz out of the laboratory and prepare it for application in the harsh environments populated by military systems and space applications. With an objective of achieving the best laboratory performance in harsh environments. Frequency Electronics started with clocks of 1×10pp-9 in a laboratory and we are now supplying clocks with aging rates of parts in 10pp-13 and short-term stability of 7pp and 10pp-14 from 1 to 1,000 seconds. We had many difficulties through our growth process but I am very satisfied that we achieved almost all of our objectives.
Vig:
What part of the job did you enjoy the most?
Bloch:
The ability to provide clocks for space, military and commercial use with great stability and long life. It was also very important for space application to reduce size, power, and weight. I think we demonstrated Art Warner's prediction that the well-designed quartz clock has a very very long life.
Vig:
What were the least enjoyable parts?
Bloch:
The long hours, sometimes sixty to seventy hour weeks, dealing with 500 people at a time, many of them scientists, and the sacrifice of not having enough time with my family, which I regret the most.
Vig:
What were the most critical moments in your career?
Bloch:
Frequency was started with very little money, $143,000, and we had some very difficult times and accomplished all of our missions. It was a struggle to watch every penny. I am glad to say that Frequency is now a public company with a market cap in excess of $80 million.
Vig:
Any comments on juggling your professional life and your family life?
Bloch:
I have regrets over taking precious time away from my family to build a dream, but I probably would do the same thing again.
Vig:
Has your heritage been important to you and your task?
Bloch:
Definitely. Surviving the war from the age of five till nine as a partisan provided me with a lot of faith that I can achieve almost everything, as well as with the energy and perseverance to make it happen. My education in a DP camp was intensive and instilled in me a spirit that I can achieve anything.
Vig:
Overall, what was the greatest obstacle that you have had to overcome in your career?
Bloch:
Number one on my list must be surviving the war as a young child after my father was shot to death by the Germans. The second most difficult part was to convince my family and our early customers that we could accomplish and deliver what we promised.
Vig:
Do you remember when you joined the IEEE?
Bloch:
To the best of my recollection, it was 1964-1965.
Vig:
Has the IEEE been important in your career? Have you learned things with the help of IEEE?
Bloch:
There is no question of the value of IEEE in my life and in the development of Frequency Electronics products. Attending the IEEE's sponsored meeting and symposiums, and having the opportunity to interact with scientists from different organizations and different countries was very stimulating and challenged me to develop the best products in the world. The IEEE symposiums provided me and my colleagues at Frequency Electronics with great experience in working with professionals in various fields, as well as a platform to present over one hundred technical papers and lectures and to exhibit all of our products to many potential customers.
Vig:
You had also served as an IEEE volunteer, e.g., on the Technical Program Committee of the IEEE Frequency Control Symposium.
Bloch:
Yes, I did, and I enjoyed that very much.
Vig:
And, we must not forget that you also received the 1992 Sawyer Award of the IEEE UFFC Society, and that it had been my great pleasure to present that award to you at the 1992 IEEE International Frequency Control Symposium.
Bloch:
Oh, yes! That had been a great honor.
Vig:
Martin, I have just one final question and comment. Is it not remarkable how a boy born in a small town, Ivje, in Poland, survived hatred, bigotry, persecution and genocide; came to the U.S.; and founded a company and grew it to become the premier supplier of frequency sources to the U.S. space effort?
Bloch:
Yes, I guess it is.
Vig:
Thank you for taking the time to tell your story.